Zoltan is a two-time European Rally Champion, a TV host, a member of the fit disability commission in FIA (International Automobile Federation in Paris) and a traveler at heart. The rally accident in 2016 may have injured his spinal cord but, his zeal to live life to the fullest with his passion for travel, eagerness to work & make meaningful contributions is clearly evident from the conversation we had with him.
Tell us something about yourself, your background, interests, and how you became a wheelchair user.
I am a journalist and I was a Rally driver and I was two times the European champion, and then in Hungary before one of the races I was in the passenger seat and we had a really big crash. Because of that, I had a spinal cord injury in my neck. So, I became a wheelchair user in 2016. My interests are traveling, sports, and certainly, cars and car racing.
Zoltan before the crash.
Which genre of journalism are you into and does it give you ample opportunity to travel?
As an automotive journalist in the past 25 years, I had a really good chance to travel a lot and certainly, car racing also gives me a lot of opportunities to travel. If I'm correct, I have been to 50 different countries in the world.
When did the travel bug hit you for the first time? Also, did the car crash impact your passion for travel, for good or for bad?
After the accident, I was in rehabilitation for one year. I came out in the summer of 2017. After the escape, if I'm remembering correctly, one week later, I started traveling and was in Croatia, at the Seaside.
I surely had to do re-mapping all day, of the traveling information that I had previously. If you are traveling with a wheelchair you have to reset everything to match correctly but, once you find the best possible way for yourself, chair travel can be easier than what it was before that. So, I can tell the truth that future traveling is not as bad as most people think.
Do you mean that wheelchair travel might involve pre-planning but, if everything matches as per the traveler's needs, chair travel can be easy?
Yes, that's totally correct. If you are pre-planning every detail of your chair travel, it won't be that complicated. Having help like a boyfriend or a girlfriend makes it all the more simple. However, in case you want to travel solo on a wheelchair, you've got to be clever. From the summer of 2017, I have been to 12 different countries and I would like to show to everybody via Instagram and Facebook that it isn't that complicated.
With his partner in St. Petersburg. PC- Zoltan
Do you travel alone or with a company?
Most of the times I am traveling with my beloved company, but I also need to travel alone, to Paris for instance, because of the business.
What if something major from the pre-planned bit goes wrong while traveling solo. How do you tackle it?
That is the big question for me too. Most of the times, a sense of humor helps you out and you need some flexibility for sure.
By far, which is the most and the least accessible destination that you have been to?
It's funny, but I found the southern part of Spain to be non-accessible. I did it two times and it wasn't good for me. Gibraltar was still ok; they let me go up to the hill by car, so it was a good experience.
The most accessible part of my "new" travel life is clearly the USA. It was a super experience. I was there 8 times, but it wasn't the worst with chair than before.
Can you think of a hassle that you may have faced while traveling and how did you overcome it?
In December, we were in Abu Dhabi and Turkish Airlines broke my chair. It's a carbon fiber unique chair. They did not help me with anything. But, "I punched them in the face" because my lawyer is in charge. Haha! This was my biggest problem in the last 2 years of traveling.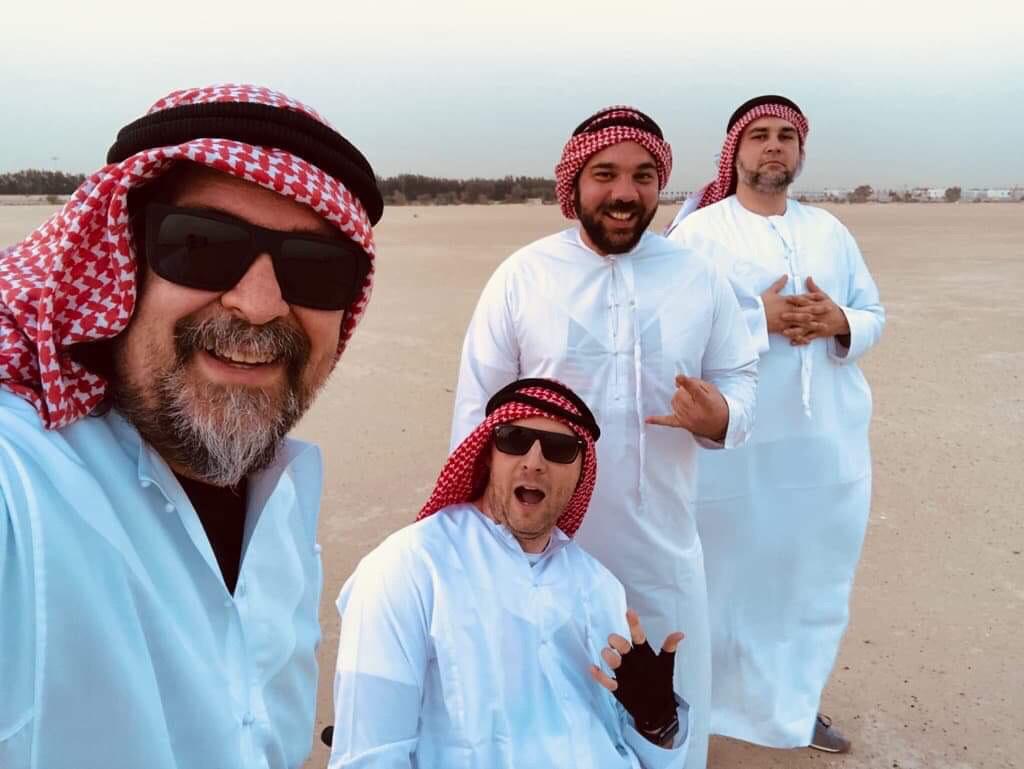 In Abu Dhabi. PC- Zoltan
Dubai from the Sky. PC- Zoltan
What are the issues in accessible travel tourism that travelers of your community should keep an eye out for?
What I want to communicate to everyone is- Let's travel! Do not care about your disability, just be free and start to find new destinations. With somebody, your travel is much easier. So, find your partner in crime and buy your next plane ticket! and do not forget your chair cushion! It's important for the plane too.
Could you brief us about FIA & is your association with them in line with accessibility & its promotion?
The FIA is the biggest organization for automotive; Dave works with the motorsports. They are also working with mobility systems.
Dave is based in Paris and France and I am a member of fit disability commission. So, we are working and lobbying for a better future as a disabled driver and working for the racing drivers who had the same situation as mine. My basic work about this project is to promote the disabled drivers who make interesting and powerful results against the able body drivers. And, because I am a media and marketing expert this is the main target for me in this year to promote the drivers.
Could you suggest a few good resources that people in wheelchairs can use to travel?
I think all the wheelchair travelers have to check the internet! I have found all the most important information there. When you become familiar with accessible travel, later you can have your own experience. But, first, let's check the Internet.
Describe your travel personality.
I prefer different kinds of experiences during my travels and try to the destination as a whole. I like to know all about new places, try the food, see the historical stuff and the cities too and not just lie next to the beach. Thus, I prepare my travels as much as I can.
With friends. PC- Zoltan
What is your best travel experience to date?
That's tough to say. Well, Costa Rica was beautiful, LA is my favorite city, NYC before Christmas is awesome, Tulum and Chicen Itza are unique, a cemetery in Sao Paolo was super for me because of Senna. Japan's The flashing Tokyo, I love that too. Shibuya station- 5000 people in one pedestrian crossing and Africa. Also, Europe. So, I basically cannot answer that question. Haha.
What are those 3 tips that you'd give to a fellow chair user who wants to live the dream of travel?
Preparation is key.
For Long haul flights, chair cushion is important.
Spare parts for all of our "important " needs
To the USA, I always travel with spare cushion, and tire, pump, etc. because if you are so far from Europe, and if the cushion has a problem, you need to change asap- to protect the "butt". True story, haha.
What is the "essence of travel" to you?
To know new cultures and peoples, or places are the most important thing! When you know more you see the whole world with varied perspectives.
Zoltan
Traveler
Zoltan is a two-time European Rally Champion, a member of the fit disability commission in FIA (Inte...
Ria
Author
Ria is one of our heads in the Content & Community Management Team. She comes from a management back...